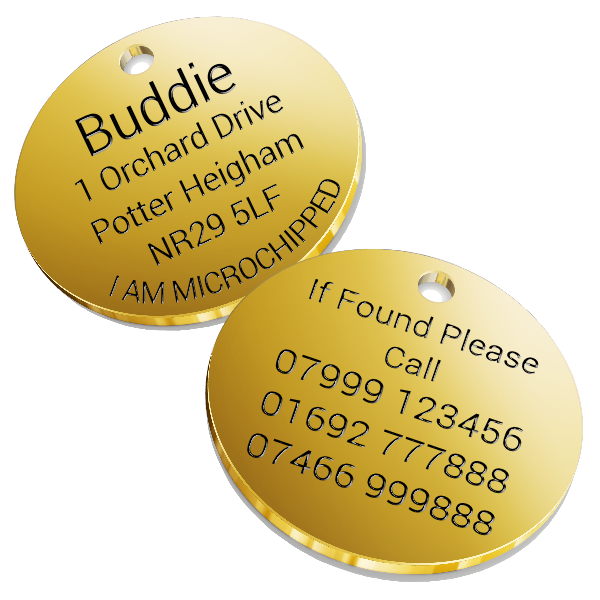 Dog id Name Tag Solid Brass Pet Tag 30 mm
pt-015
Description
Engraving Spec
Tag Size
Material
Solid brass dog id name tag handmade by ourselves in solid brass and deep engraved with your contact details.
Every tag is highly polished and the text is in filled with black enamel that will not wear off.
This product has a minimum order quantity of 1.
We can engrave 5 lines of text on each side of the solid brass pet tags.
We recommend:
Name.
Address.
Contact Numbers.   
Your tag will be deep engraved and the text will be black in filled by us using the correct methods.
30 mm Diameter x 1.5 mm thick
These Tags are handmade by ourselves from 1.5mm Thick Solid Brass.
Sally Kemp
Wowwwwwwwwwwww What a lovely tag i will be ordering again from you. xxxxxxxxxxxx
T.Walters
Very Please with the speedy delivery of my item. i will recomend you to all my friends at the dog show this year.
Mike Townsend
Lovely tag and as you say it is very clear to read. Toby will wear this tag with pride. Thakyou
Julie Townsend
Thank you so much for my tag i canrt beleave the quality its fantastic. thank you. thank you. thank you.
Mary Jennings
What a beautiful tag. ill have to try and keep it polished. Thank You Debbie.
June B
wowwwwwwwwww This is the best service i have had when buying a tag for my dog. i will deffo recommend you. xx
Lisa.J
Thank you for such a lovely tag. Jessie looks really smart wearing this Brass Tag